With the coronavirus pandemic continuing to loom ahead of us, there is some debate over the safety and necessity for children to return to school in person this fall. Government officials, educators and parents all agree that while options are limited, in general school children benefit greatly from being present in the classrooms. So, it is best to prepare for the likelihood that kids will be required to attend school. But, what safety precautions can parents and educators take to ensure the health of the children and the adults who care for them? Evidence suggests the use of face masks may be the best line of defense.
Most schools have been required to submit plans for the safe return of the students prior to the beginning of the school year. Some may have adapted schedules to accommodate physical distancing, and in an ideal world, there will be combined physical and distance learning classrooms. But, when the kids must be physically in the school either some or all of the time, there must be a plan to keep everyone safe.
Classroom use will need to be adapted, furniture re-arranged, and traffic flow re-thought. Facilities management will have to make sure that the buildings are up to date with new germ and virus signs and directional aids, such as area control chains and stanchions, and floor decals in areas where bottlenecks could occur. Facilities will undoubtedly need to be monitored and watched closely for quick adjustments that may be required "on the fly."

Evidence shows that teachers and staff could be most at risk, but this is not 100% clear. Regardless, precautions will be taken, and the first and foremost recommendation is physical distancing between all people - students, faculty, and other staff. When physical distancing is not possible, then the use of face coverings will undoubtedly be required.
Perhaps because the initial reports on the COVID-19 outbreak involved older people, not children, most of the disposable masks we've seen are made for adults. However, manufacturers have done a good job with adapting and adding important child sized options to the product lines that will accommodate the school-aged children as they return to the classroom. These are made to fit properly on the children's smaller faces.
WARNING: Children under age 2 should not wear a face mask.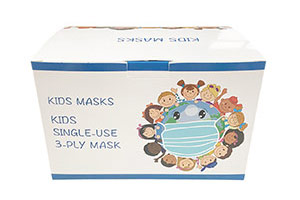 Among the most sought-after masks for children are the one-time use disposable masks, such as the GSS-9001 Childrens Face Mask 3 Layer Ear Loop Disposable. Designed to protect from aerosols and dust, these masks have ear loops for easy fit, and are made of three layers of protective material. They are individually wrapped for safe-keeping until used by the child, which is ideal for situations when the masks will be handed out as the students enter a facility.
Most schools will need to have a supply of these on hand, even if masks are required to be supplied by the students. This is of course because, as we know, there are always situations when a student will have lost or forgotten their own mask.
Fortunately, inventory is good at this time. We're actually not sure how long that will last as school openings approach, but we are informed that manufacturing steadily continues. If there is any question about availability, or if the quantity required is large, then either a phone call or Email to Safety Smart Gear customer support would be the best move.
For inquiries, please contact: sales@safetysmartgear.com, or call +1-877-999-4849. Please return often, as Safetysmartgear.com continues to improve and expand upon all the gear needed to help the teachers, staff, students and visitors at your school remain safe and protected from harm.
Recent Posts
These high tech welding helmets from Pyramex are not your grandpa's head protection. They are super …

Used by EMS, Law Enforcement and Fire Fighters for functional and dependable use under real world ap …

Safety Smart Gear carries a large selection of Pyramex Safety Glasses sold by the dozen to p …