This Radians High Visibility Multi Color Bomber Jacket provides high contrasting colors for increased daytime visibility. The 160 Gram quilted lining and elastic waist & cuffs help keep out the cold. Made with 300 Denier PU coated oxford polyester for weatherproof protection in the wind and rain. A durable, reliable ANSI Class 3 jacket at a great price. Other features include 2 zippered closure slash pockets, elastic waist and cuffs, attached concealable hood and dual microphone tabs. ANSI Class 3 visibility with 2 inch reflective around upper and lower sleeve, over shoulders and around chest.
Features:
ANSI Class 3
High Contrast Colors
Black Waist & Lower Cuffs
PU Coated Weather Resistant Shell
Quilted 160 Gram Liner
3D Flap Covered Cell Phone Chest Pocket
Concealable Attached Hood
Dual Microphone Tabs
Available in Sizes Medium, Large, XL, 2XL, 3XL, 4XL, 5XL
Available in Yellow/Orange
Size Chart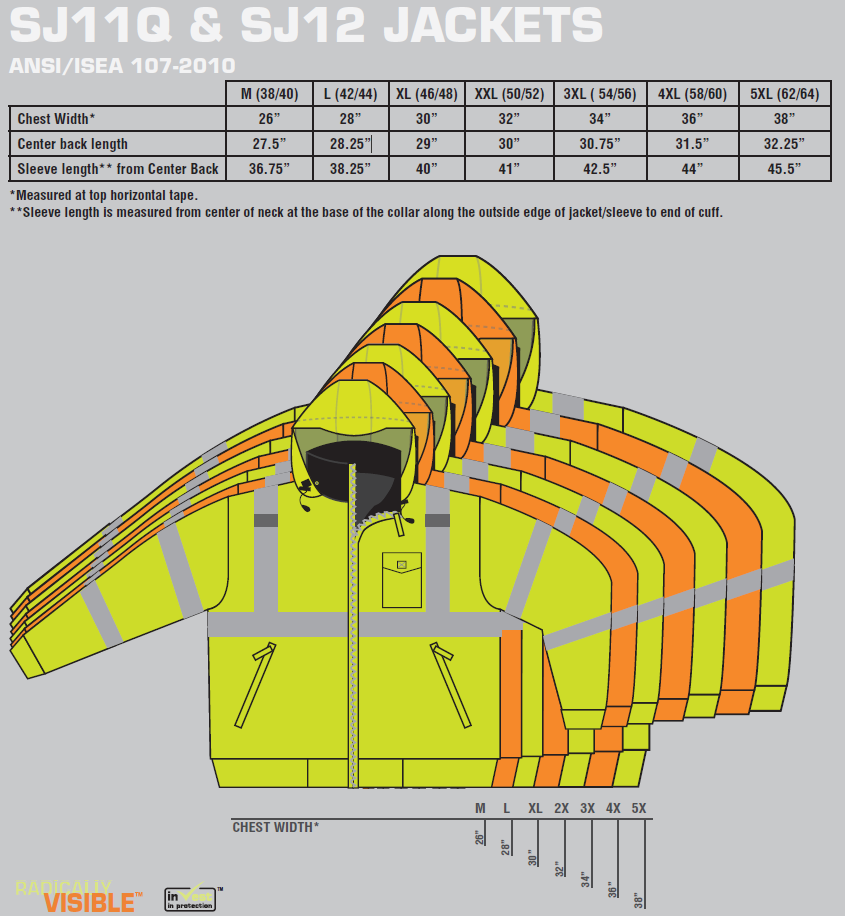 7 Reviews
The jacket looks good and has decent pockets. What it lacks is sufficient room to allow you to stretch your arms forward.



These jackets are way undersized. Should be sized to US standards or at least advertised as undersized.

Even though we really havnt had much of a winter here, yet. the coat fits well and feels good. along with the other items bought i should be good n safe out there.

This coat is tremendous. The fit is excellent and the price point is perfect. The only down side is the fact it doesn't have a zip out lining.

Customer service was very helpful.

Radians High Visability Multi Color Bomber Jacket

I looked online at a lot of different websites for a cold weather high vis jacket, but I wanted one with certain features like lots of pockets, radio mic holders and shoulder pen pocket. I finally ran across this multi color high vis jacket and it had everything that I needed and at half the price of similar jackets with half the features. So I bought it and I couldn't be happier. It is absolutely the best class 3 cold weather jacket that I have ever had. Everyone at work ask me about this jacket and where did I get it. I love it.

radians high visibilty multi color bomber jacket

Wonderful jackets!!