This Radians High Visibility 3 in 1 Bomber Jacket in Green has everything you need in a 3 in1 at a great price. Made with PU coated oxford polyester for weatherproof protection in the wind and rain. A durable & reliable ANSI Class 3 jacket at an unbeatable price. Removable zip out fleece liner makes this bomber jacket versatile under changeable weather conditions. Wear the ANSI Class 3 shell by itself, with the fleece liner or just the fleece liner itself when Hi Vis is not required. Fleece liner has 3 pockets and lined sleeves for easy on and off. Other features include flap covered cell/radio pocket, 2 zipper closure side pockets, elastic waist and cuffs, attached concealable hood and dual microphone tabs. ANSI Class 3 visibility with 2 inch reflective around upper and lower sleeve, over shoulders and around chest. Available in high visibility Yellow.
Features:
ANSI Class 3
High Visibility Green
Polyurethane Coated Weatherproof Shell

Zip Out Removable Fleece Liner
Clear ID Badge Holder
Flap Covered Radio Chest Pocket
2 Zipper Closure Side Pockets
2 Left Sleeve Pencil Pockets
Concealable Attached Hood
Dual Microphone Tabs
Available in Sizes MD to 5XL
Available in Yellow/Black
Size Chart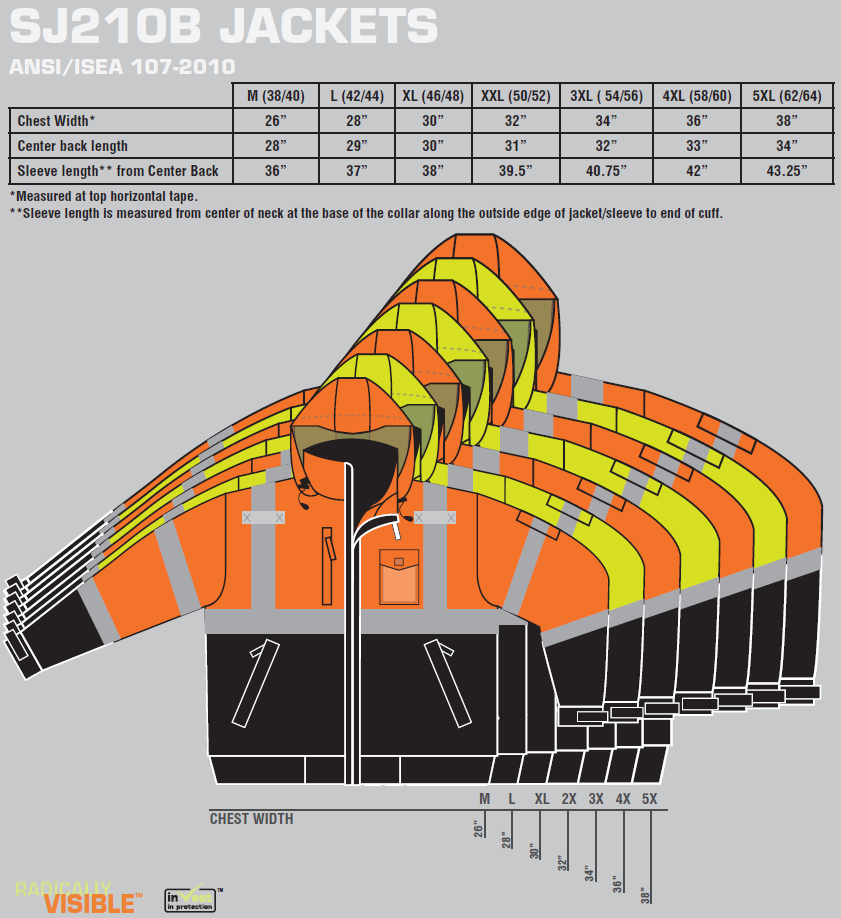 6 Reviews
High Visibility bomber jacket

Good fitting jacket, appears to be well made

Very warm!!! Polar fleece liner is warm. Windproof outer shell does just that, keep the wind out. Very versatile. Only complaint is the back of the liner doesn't stay down with the bottom of the jacket. It needs a loop to attach the bottom, like neck and sleeves have.

Product was as described and fit well. The sizes are about one size off compared to what the guys normally wear, so make sure you look at the measurements. Other than that one little issue, everything else in the entire experience was great!

Got one for me and another for one of our guys. Good quality jacket, great that it's convertible to a light jacket/ wind breaker style as well as a fleece lined heavier coat. Keeps the wind out and very warm. So far great, would definitely recommend

Excellent coat
Warm and comfortable

Great Jacket everything it said it would be and more. I am extremely pleased with this product, it fits my needs to a t. Though they were out of stock when ordered it still came in a very short time, just as the first cold snap of the season arrived. Well done.