This Radians High Visibility 3 in 1 Winter Parka has all the features you want in a 3 in1 providing versatility & comfort in all kinds of inclement weather. Made with PU coated oxford polyester for weatherproof protection in the wind and rain. Mesh shell lining and vented back provide breathability and added comfort. Removable zip out fleece jacket makes it versatile under changeable weather conditions. Wear the ANSI Class 3 shell by itself, with the fleece jacket liner or just the fleece jacket itself when Hi Vis is not required. Other features include D-Ring pass through, flap covered radio pocket, 2 zipper closure side pockets, elastic waist and cuffs, concealable hideaway hood and dual microphone tabs. ANSI Class 3 visibility with 2 inch reflective around upper and lower sleeve, over shoulders, around chest and lower torso. Available in high visibility Green.
Features:
ANSI Class 3
PU Coated Weatherproof Shell
Zip Out Removable Fleece Jacket
D-Ring Pass Through
Flap Covered Radio Chest Pocket
4 Lower Zipper Closure Pockets
2 Large Inside Pockets
Concealable Detachable Hood
Dual Microphone Tabs
Available in Medium, Large, XL, 2XL, 3XL, 4XL, 5XL
Available in Yellow/Black
Size Chart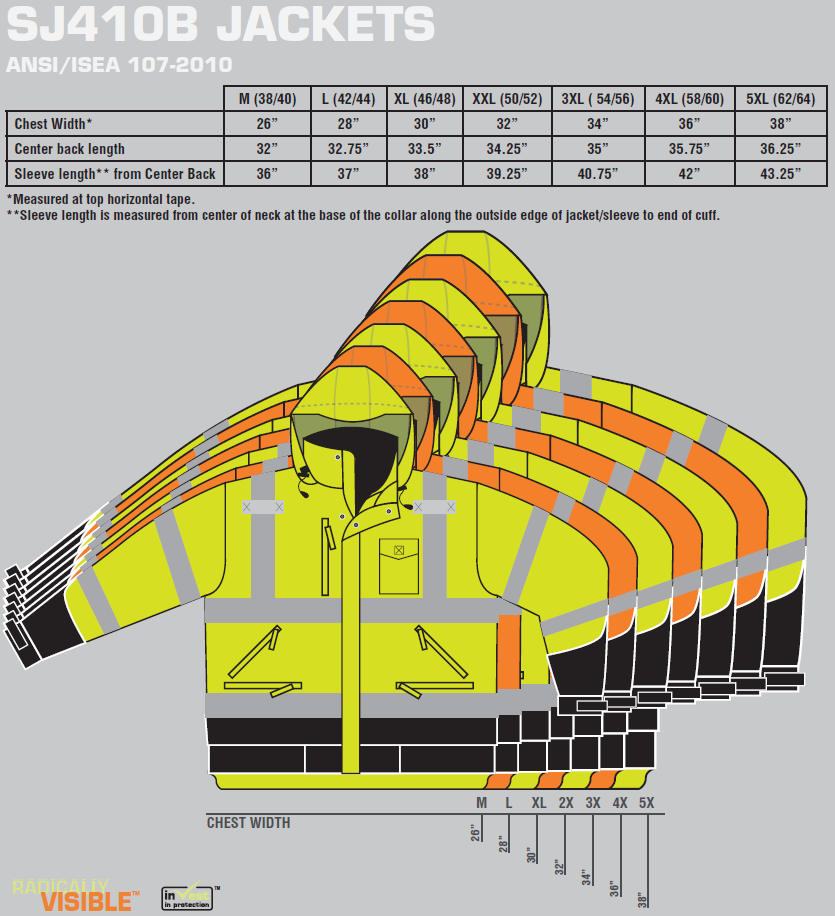 3 Reviews
Product was as described and fit well. The sizes are about one size off compared to what the guys normally wear, so make sure you look at the measurements. Other than that one little issue, everything else in the entire experience was great!

Unable to make contact and slow to straighten out

I had trouble getting anyone to return my phone calls or to return my emails. I left several voice messages only to not have you return my call. After waiting 3 weeks, with multiple attempts at contact for a return authorization number, I still haven't received one. Frustrating from a business point of view!

Love these jackets, wish the fleece liner was a little thicker but overall very nice.