Portwest
With over 115 years of experience and a heritage of quality, value and service, Portwest is firmly established as a world leader in the design and manufacture of high-quality workwear that meets recognized international standards.
Portwest - High Quality Workwear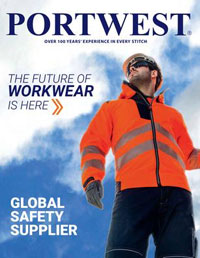 Our extensive collection of workwear, safety footwear and PPE protects people all over the world in diverse industries such as oil and gas, welding, mining, agriculture, transport, chemical, construction, warehousing, manufacturing and much more. We are specialists in hazard protection including flame, electric arc, chemical, molten metal, heat, cold, visibility, rain and ESD.

Safety Smart Gear has an extensive collection of Portwest's most popular products on this website. We also offer discount pricing on everything in the Portwest Catalog. In addition to browsing the products found on our website we invite you to review this manufacturer's PDF Catalog and call us for easy ordering at always the lowest wholesale prices.