Big Bill
Big Bill FR Clothing and FR Workwear - Flame Resistant Apparel
Safety Smart Gear offers wholesale pricing on Big Bill products. As part of Codet, Inc., which was established in 1946 in Quebec, Canada. Codet Newport, Inc., is the American-based sister company located in Newport Vermont providing the Big Bill product line of high-quality flame resistant clothing and industrial fire retardant workwear.
Big Bill - Quality Protective Flame Resistant Clothing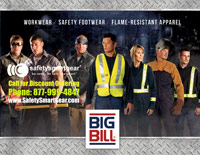 Big Bill provides quality protective flame resistant clothing and workwear built to strict design and workmanship standards for today's demanding work environments. When you set off in the morning to the job site wearing your BIG BILL workwear, whether you work in zerobelow weather or in the blazing heat, you can trust your workwear will weather mother nature's uncontrollable wrath and terrain.

SafetySmartGear.com has an extensive collection of Big Bill's most popular products on this website. We also offer discount pricing on everything in the Big Bill Catalog. In addition to browsing the products found on our website we invite you to review this manufacturer's PDF Catalog and call us for easy ordering at always the lowest wholesale prices.