Blaklader
Blaklader is one of Sweden's leading producers of heavy work clothes.
Established in 1959, Blaklader provides workwear constructed with attention to detail. Each article of clothing is specially designed to meet the demands of specific professions in terms of durability, function and design. Blaklader products last longer because they utilize fabrics, threads and zippers from the world's foremost suppliers...One of the reasons Blaklader is the only workwear manufacturer that offers a lifetime warranty on its workwear seams.
Safety Smart Gear is proud to offer these premium workwear products in the USA.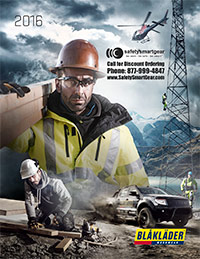 OFFLINE CATALOG ORDERING

Safety Smart Gear has an extensive collection of Blaklader's most popular products on our website. We also offer discount pricing on everything in the Blaklader Catalog. In addition to browsing the products found on our website we invite you to review this manufacturer's PDF Catalog and call us for easy ordering at always the lowest wholesale prices.
View Online Catalog Ordering of Blaklader Products Below