How is sustainability in the Safety Garment world?
There has been a glimpse of sustainability in the form of a safety vest.
This NEW Sustainable Hi Vis Mesh, 5 Point Break-Away Vest LUX-RY2MB by Occunomix is made from recycled materials and is certified by GRS.
What does this mean?
The Global Recycled Standard (GRS) verifies recycled content in products. It does this with traceability of recycled items to the finished and final products, like this cool new Sustainable Breakaway Vest.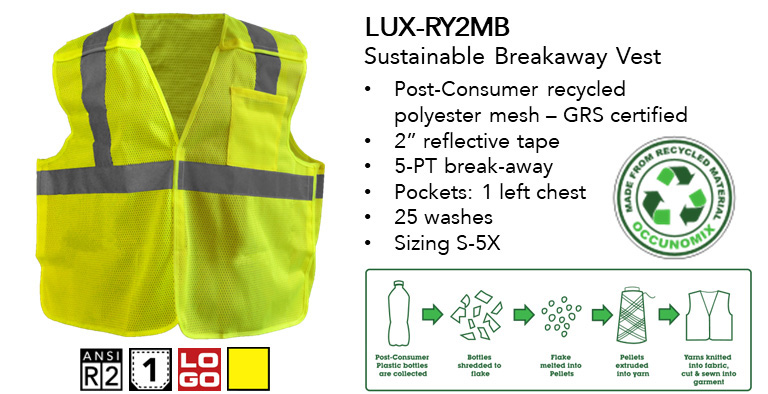 Ethical and Responsible Production
The GRS also monitors for ethical and responsible production of the recycled process and the finished product. Some of the ways it does this is by monitoring with chemical restrictions for any toxic inputs and to assure environmentally friendly practices are followed during production.
LUX-RY2MB Sustainable Breakaway Vest
Check out this Class 2 LUX-RY2MB Sustainable Breakaway Vest and choose from sizes SM-5XL to outfit your whole team with Recycled Standard product.
Recent Posts
As the cold weather rolls in, maintaining productivity and comfort on the job site can become a g …

Worker Safety Does't Stop at the Collar, Wrists or Ankles In the world of workplace safety, it' …

Safe-Fast is committed to ensuring your utmost safety at every height. As a prominent online reta …