DeWALT
DeWalt Safety Products and Apparel
Shop for DeWALT Safety Gear Clothing.
DeWALT Gear Clothing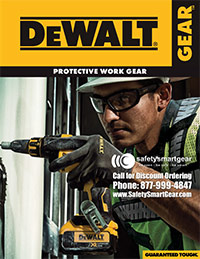 A trusted name by professionals worldwide, DEWALT Tools consists of corded and cordless power tools, hand tools and accessories. Guaranteed Tough, DEWALT work gear provides the working trades with safety gear that is stylish, functional, and comfortable while meeting important ANSI standards. DEWALT Gear is a comprehensive line of quality protective clothing & accessories to minimize personal exposure to safety hazards.

Safety Smart Gear has an extensive collection of DeWalt's most popular products on our website. We also offer discount pricing on everything in the DeWalt Catalog. In addition to browsing the products found on our website we invite you to review this manufacturer's PDF Catalog and call us for easy ordering at always the lowest wholesale prices.