FallTech
Personal fall arrest system products for Fall Protection that include anchorages, fall safety body wear harnesses, connectors and deceleration fall protection devices.
Fall Tech - Fall Protection Safety Products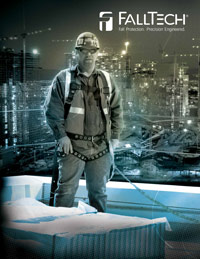 Headquartered in Compton, CA, FallTech has an in-house team of engineers, field experts and fall safety trainers available to perform fall safety hazard analysis and develop fall protection product solutions for the most challenging work environments. With a few exceptions, most all of Falltech gear is made in USA, with OSHA code and the family of ANSI Z359 standards being central to FallTech's mission to build fall protection products that bring you safely home.

SafetySmartGear.com has an extensive collection of Fall Tech's most popular products on this website. We also offer discount pricing on everything in the Fall Tech Catalog. In addition to browsing the products found on our website we invite you to review this manufacturer's PDF Catalog and call us for easy ordering at always the lowest wholesale prices. Learn About Fall Tech Safety Standards. If you have any questions about Fall Protection gear or Fall Tech products, we invite you to review the Fall Protection FAQ section of the site. Made In USA
Fall Tech - Personal Fall Arrest Systems and Accessories
Personal fall safety system should be designed to keep you from contacting a lower level if you fall. A personal fall arrest system consists of an anchorage, fall safety body wear, connectors and a deceleration fall protection device.
A – ANCHORAGES
An anchorage connector is a component that attaches to a structure that is capable of safely supporting impact forces during a fall event. Types of anchorages include multi-purpose, beam, concrete and roofing anchors, sling and grip anchors, wire form hooks, and beam clamps.
B – BODY WEAR
The full body fall safety harness is used to enjoin the body with the connecting device in every personal fall arrest system. Full Body Harnesses should be chosen to complement the work to be done with consideration to the work environment. FallTech has a broad range of styles including standard non-belted, belted construction style, vest style, crossover, climbing, tower and retrieval with one to seven D-rings.
C – CONNECTORS
FallTech offers a wide range of fall safety connectors - lanyards, lifelines, carabiners and extenders - that couple the full body fall protection harness to an anchorage.
D – DECELERATION DEVICES
A deceleration device, such as a self-retracting lifeline, slows the worker and reduces forces to the body and anchorage during a fall.